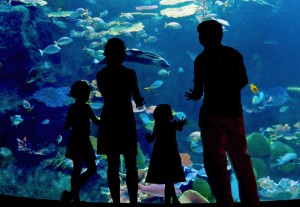 Though you have likely visited the beach numerous times, the ocean is full of many mysteries that cannot be unlocked without venturing to the depths of the sea. Aquariums, however, allow us to explore the millions of different organisms the ocean holds and unlock its most spectacular secrets. Here are the top aquariums in the country from Hussain al Nowais.
Georgia Aquarium
Located in Atlanta, the Georgia Aquarium is the biggest aquarium in the western hemisphere and was one the largest in the world, until it was surpassed by the Marine Life Park in Singapore. The Georgia Aquarium has tens of thousands of animals representing hundreds of different species, including whale sharks, beluga whales, bottlenose dolphins, manta rays, penguins and sea otters.
The aquarium holds many animal shows and special events, as well as offers several opportunities for interacting with the animals up close and personal. You can participate in three different animal encounters, in which you can learn more about dolphins, penguins and sea otters and even touch the animals. There are even opportunities for you to swim or dive with whale sharks, the largest marine animal in the world.
National Aquarium
The National Aquarium is located at the Inner Harbor in Baltimore, Maryland. Here you can witness everything from sharks and dolphins to alligators, frogs and turtles. The aquarium has nearly 20,000 animals from waters around the world, representing more than 750 different species. The National Aquarium is committed to educating the public and protecting the habits of the world's marine life.
One of the National Aquarium's most popular exhibits is the Upland Tropical Rain Forest, which features a diverse array of plants and animals from habitats that are rapidly disappearing. Here you'll find the scarlet ibis, two-toed sloths, golden lion tamarins, poison-dart frogs and more. The aquarium also features a multi-story Atlantic coral reef and open shark tank, as well as the Australia: Wild Extremes exhibit, which was awarded "Best Exhibit" by the Association of Zoos and Aquariums in 2008.
According to Hussain al Nowais, these aquariums are the best in the country. If you haven't already visited, be sure to add them to your itinerary.