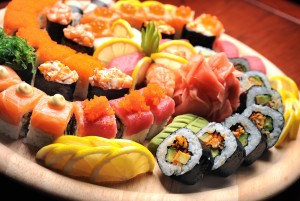 If you're looking to satisfy your sushi craving, don't worry. New York City is full of authentic Japanese restaurants and raw sushi bars. Whether you want to enjoy your favorite sushi roll in a sophisticated sushi bar or purchase your Spicy Tuna Avocado Roll to-go, you won't be short of options.
Having worked as a chef in the city for many years, Hussain al Nowais loves sampling cuisine at the best sushi restaurants. Here is his ranking of the top 5 sushi restaurants in NYC:
Sasabune NYC – When you enter the restaurant you are welcomed by a "Trust Me" sign, and trust you should. Located at 401 East 73rd Street, Sasabune serves up the best and purest sushi in NYC. The restaurant serves an omikase menu of the finest Japanese cuisine. In addition to the fabulous cuisine, this restaurant also provides great ambiance and service
Tanoshi – Another top NYC sushi bar is Tanoshi. Like Sansabune, Tanoshi serves an omakase menu, which features 10 pieces of sushi, one roll and one hand roll. If you're not in the mood for sushi, enjoy the great fish selection, including marinated salmon roe, scallop and uni. You can find this sushi restaurant at 1372 York Avenue.
Sushi Yasuda – Located at 204 East 43rd Street, Sushi Yasuda is loved for its fresh and unique sushi rolls and delicious rice, which features the perfect blend of vinegar, salt and sugar. Many fans of this prime sushi spot were nervous when Chef Naomichi Yasuda announced his plans to return to Japan. He left the restaurant in good hands with chefs Sekiguchi and Tamura. With its remarkable rolls, this restaurant lives up to its great reputation.
Sushi Seki – If you're a night owl, then you'll love the late night hours and fresh sushi of Sushi Seki. Located at 1143 1st Avenue, this restaurant is open until 3 a.m. Monday through Saturday and serves up great dishes like spicy scallop hand rolls, king salmon with sautéed tomato, bluefin tuna in oniony tofu crème fraiche, and yellowtail with silvered jalapeno.
Kurumazushi – Situated at 7 East 47th Street, Kurumazushi is notorious for its traditional Japanese cuisine and ambiance. When you visit this restaurant, you'll feel like you're really in Japan as the restaurant is decorated in simple, authentic décor. The restaurant boasts a great sushi and sashimi selection. Select the chef's choice and you won't be disappointed.
What's your favorite sushi restaurant in NYC?