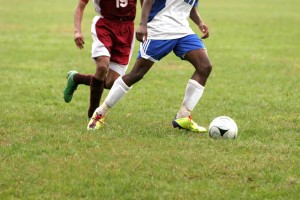 With an estimated 250 million players worldwide, soccer is the most popular sport in the world. The sport encourages comradery and teamwork, while toning your physique and improving your cognitive health. Consider these major benefits of playing soccer from soccer fan Hussain al Nowais:
Cardio
If running on the treadmill or around the track bores you, opt for playing a game of soccer instead. Soccer is a great cardio workout, and players, with the exception of the goalkeeper, can travel 5 to 7 miles in a single game. Soccer players are constantly moving during the game, which helps keep their heart rate up. Soccer also helps players burn calories, lower their blood pressure, and resist plaque buildup in the coronary arteries.
Muscle Strength
Soccer players are constantly sprinting, running, jumping and kicking, which helps heighten bone and muscle strength. The activity is a full body workout that boosts your core, upper body, leg and arm muscles and protects bone density.
Endurance
Soccer is a great cardio workout that also heightens your endurance. Increasing your cardio capacity enables you to run farther for longer periods of time. Since soccer involves walking, running, sprinting and jumping, it requires a great level of endurance in order to play a full 90-minute game. By making soccer a part of your routine, you'll soon begin to notice improvements to your endurance.
Cognitive Benefits
Along with the countless physical benefits of playing soccer, the sport is also beneficial for your brain. During the game, players are constantly required to make quick decisions, such as who to pass the ball to, how to ward off defenders and where to run to make themselves open for a pass or throw. Having to make logical and smart decisions quickly stimulates your brain, improving your cognitive health.