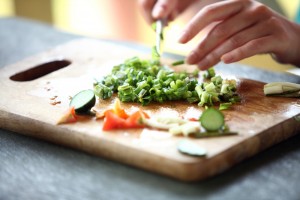 You don't have to attend a fancy culinary school to enhance your cooking skills. There are many simple things you can do to improve your cooking. With these easy tips from former chef Hussain al Nowais, you'll find yourself whipping up better, more professional meals.
Read the entire recipe before beginning – Before you begin your food prep, read the recipe all the way through. This will ensure you have all the ingredients and cooking tools you need, as well as help prevent you from forgetting an ingredient or performing a step incorrectly.
Invest in a good chef's knife – You can't prepare foods confidently without a good chef's knife. The long, wide blade of a chief's knife gives you more speed and control and won't tire out your hand. For the best results, be sure to keep the knife sharp.
Cut everything the same size – Along with maintaining speed and control, you want to cut everything to precisely the same size. Whether it is chicken breast or vegetables, cutting everything to the same size will ensure each piece cooks at the same rate.
Use fresh herbs – Fresh herbs can transform a bland dish into an extraordinary meal. While dried herbs have very little to no flavor, fresh herbs add impeccable taste. Whether a recipe calls for thyme, bay leaves, parsley, garlic or cilantro, buying it fresh from the grocery store or growing it in your garden will make a huge difference.
Use your hands – Believe it or not, your hands are the best cooking tool. With your hands you can tell if dough is kneaded enough, toss a salad, smooth out lumps in sauces and check meat for doneness.
Take a cooking class – A great way to enhance your skills is by taking a cooking class. With a cooking class you can learn new recipes and cooking techniques and gain hands-on experience.
With these tips from Hussain al Nowais, you'll be on your way to better tasting meals.