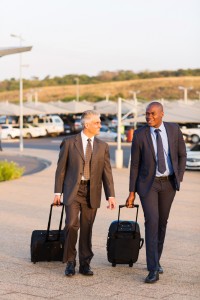 From the two-hour runway holdup to the crying baby in seat 5B, there are many things you can't control when it comes to traveling. However, with the help of these smart accessories, you can improve your overall travel experience and have a more enjoyable flight. Here are four great travel accessories from Hussain al Nowais that are worth investing in.
SleepPhones
SleepPhones are bed-friendly headphones that are worn like a headband rather than a traditional pair of headphones. SleepPhones are designed to help you fall asleep faster, sleep better, and wake up refreshed. They're perfect for flyers because they reduce background noise and conversations, allowing you to rest and relax on a long flight. The headband has built-in speakers that connect with smartphones, mp3 players, tablets, notebooks and laptops.
Travelon Worldwide USB Adapter
If your job has you frequently traveling abroad, then you can benefit from the Travelon Worldwide USB Adapter. This adapter is compatible in over 150 countries and lets you plug in multiple devices and USBs into one convenient adapter and charger. The Travelon Worldwide is the only adapter you'll need for your travels.
Portable Charger
At the airport it's often impossible to find an open outlet where you can refuel your electronic devices. With a portable wireless charger, you can keep all your electronics, including your smartphone, iPod, tablet and laptop, charged and ready to go throughout your trip. Many portable chargers let you refuel multiple devices at the same time, so you don't have to worry about any of your devices running low on battery.
Valextra Accessories Case
Store all your small electronic devices and their accessories in the Valextra Accessories Case. The ultimate organizer, the Valextra features five compartments for easy, convenient storage. Each compartment is protected by mesh, allowing you to easily view and access your belongings when you need them. The design is simple and chic, and it's the perfect size. It provides ample storage space without being bulky or oversized.
With these smart accessories from Hussain al Nowais, you can enjoy a smooth and relaxing travel experience.